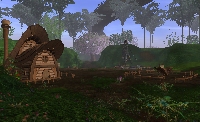 Location: Grove of Confusion, Verdant Heights (map)
Quality: 250
Material: Tekorn Bramble
Flower: Balance
Current Owners: Order of the Nameless
Information
Edit
Outpost founded in 2492, abandoned in 2493.
An outpost constructed in the wooded depths of the Grove of Confusion. It was fortified to fight the Ancient Dryads tribe, fanatical homins who see themselves as defenders of the plants. Many Matis botanists, accused of torturing the Atysian flora, have perished into their hands.
Ad blocker interference detected!
Wikia is a free-to-use site that makes money from advertising. We have a modified experience for viewers using ad blockers

Wikia is not accessible if you've made further modifications. Remove the custom ad blocker rule(s) and the page will load as expected.