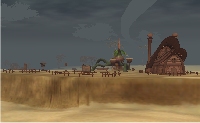 Location: Oflovak's Oasis, Burning Desert (map)
Quality: 100
Material: Greslin Filament
Flower: Balance
Current Owners: Legion of Atys
Information
Edit
Constructed atop a nexus situated at the border of the Burnt Forest, this outpost was used to keep a constant surveillance over the forest's inferno to avoid them spreading into the oasis region. The soldiers of the empire considered it an honor to be posted to the Western Front.
Ad blocker interference detected!
Wikia is a free-to-use site that makes money from advertising. We have a modified experience for viewers using ad blockers

Wikia is not accessible if you've made further modifications. Remove the custom ad blocker rule(s) and the page will load as expected.