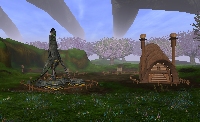 Location: Majestic Garden, Verdant Heights (map)
Quality: 50
Material: Armilo Lichen
Flower: Constitution
Current Owners: Drama Free
Information
Edit
Outpost founded in 2491, abandoned in 2493 Challenge for apprentice-rank guilds.
A small merchant guild developed trade at this outpost. Initially, many prospectors bartered their material at the site of this big trepan installed by the Karavan. A Tryker peddle had the idea of setting up a structure to facilitate these exchanges, for a modest commission. He created a guild with the Matis merchants which prospered until the outpost was closed.
Back to: Outposts
Ad blocker interference detected!
Wikia is a free-to-use site that makes money from advertising. We have a modified experience for viewers using ad blockers

Wikia is not accessible if you've made further modifications. Remove the custom ad blocker rule(s) and the page will load as expected.